CHINA TRADE WITH THE WEST
Arthur Fitzwilliam Tait was born in 1819 in a suburb of Liverpool, England. He was first exposed to the fine arts when he was sent to Manchester at the age of twelve to work for Agnew and Zanetti's "Repository of Arts," a fancy-goods store that specialized in publishing and art dealing. Intent on becoming an artist, Tait learned to draw by spending hours at the Royal Manchester Institution. In 1838 he married Marian Cardwell, the daughter of a rope maker, left the Agnew business, and began to teach drawing.
In contrast to Frances Palmer, Arthur Tait always claimed to be self-taught, and it is not known where he learned lithography and, later, oil painting. He did, however, share a connection with Palmer through the Day & Haghe firm and lithographic commissions linked to the expansion of the railroad in England. His name appears as the lithographer in a print published by Day & Haghe in 1843. He was also the artist-lithographer for Views of the Manchester and Leeds Railway, Drawn from Nature and on Stone, by A. F. Tait, a large volume printed by the same firm in 1845.
George Danson, a painter of stage sets and "fireworks panoramas" and Tait's relative on his mother's side, provided the artist with the opportunity for a radical change of life. Danson had decided to show his famous pyrotechnic spectacle of the eruption of Vesuvius to American audiences and offered Tait a position as partner in the venture. Arriving in New York with his wife in September 1850, Tait quickly made contact with local artist groups, which led to the support of art institutions such as the American Art-Union and the National Academy of Design. He soon abandoned lithography and established himself in the New York art world as a painter of animals and sporting scenes.
TAIT  WORKS FOR CURRIER & IVES
Nathaniel Currier and James Ives first took notice of Arthur Tait's paintings because of their dramatic representations of the American West. They wanted to capitalize on the current appetite for images representing the lands acquired by the United States in the aftermath of the Mexican-American War and commissioned Tait to create copies of his western scenes for publication. The success of the prints not only increased the value of Tait's paintings but enhanced his reputation as well.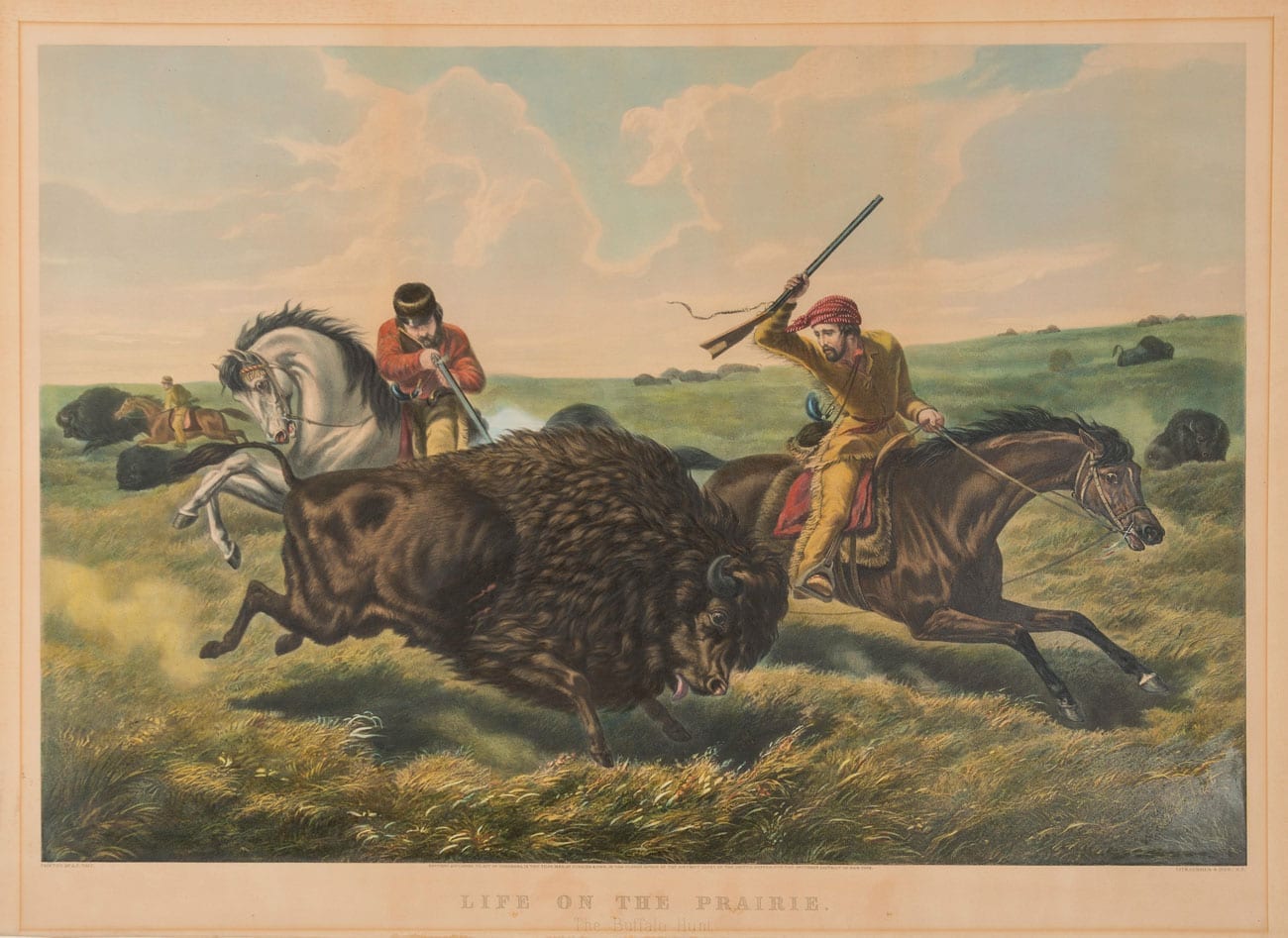 Life on the Prairie. The Buffalo Hunt
Arthur F. Tait, artist
Currier & Ives, lithographers and publishers
New York, New York; 1862
Two-tint hand-colored lithograph
Gift of Charles K. Davis 1953.155.74
The Currier & Ives firm became an important patron of Arthur Tait, commissioning forty-two paintings for publication between 1852 and 1865. Among these, two large folio series—American Field Sports and American Hunting Scenes—depicted the activities of hunters and fishermen in upstate New York, a region Tait visited every summer. The large storytelling pictures were handsomely colored by hand and heavily advertised by the publishers, defining Tait's reputation as a successful painter of narrative sporting scenes for years to come.
American Field Sports. "On a Point"
Arthur F. Tait, artist
Charles Parsons, lithographer
Currier & Ives, publishers
New York, New York; 1863
Hand-colored lithograph
Bequest of C. Porter Schutt 2000.19.42
American Hunting Scenes. "A Good Chance"
Arthur F. Tait, artist
Currier & Ives, lithographs and publishers
New York, New York; 1863
Two-stone hand-colored lithograph
Bequest of C. Porter Schutt 2000.19.6
Still life is another important theme in Tait's work: simple, non-narrative compositions depicting game and recently caught animals or lustrous portraits of wild or domestic animals. James Ives had been struck by the vibrant colors of an early composition of American Speckled Brook Trout. He commissioned a larger version from Tait, specifically requesting that it be painted with more color. The resulting chromolithograph is one of the earliest and most successful examples of the firm's experiments with color lithography.
American Speckled Brook Trout
Arthur F. Tait, artist
Charles Parsons, lithographer
Currier & Ives, publishers
New York, New York; 1864
Chromolithograph
Bequest of C. Porter Schutt 2000.19.19
COLLABORATIONS AND CONFLICTS WITH PUBLISHERS: CURRIER & IVES VS. LOUIS PRANG & CO.
As a child in England, Arthur Tait was sent to live on his aunt's farm near Lancaster. It was there, he recalled, that he developed the fondness for animals, hunting, and fishing that would become the driving force behind his artistic creativity in America. In New York, he visited the Adirondack Mountains to paint animal life and produced some of the early compositions that attracted the attention of patrons and critics at the National Academy. Camping in the Woods, published by Currier & Ives in 1863, represents one of Tait's trips. The scene includes John Osborn, a prosperous importer of liquors and wines and early patron of the artist who bought many of his pictures and resold them to friends, thus acting as Tait's agent and amateur dealer.
Aware of his own strengths and limitations as well as the fact that one learns from seeing others at work, Tait worked on at least twenty-four compositions with a Düsseldorf-trained landscape painter named James McDougal Hart. Such a collaborative approach was a direct extension of practices Tait had learned in the lithographic workshop, where artists often devoted themselves to specialized tasks.
This collaboration in painting, however, created public controversy in New York. A writer at the New York Morning Express claimed that A Tight Fix‒Bear Hunting, Early Winter, the source for A Tight Fix, was not entirely by Tait's hand. Not everyone agreed that originality and artistic excellence were incompatible with collaboration. A writer at Frank Leslie's Illustrated Newspaper defended the opposite stance: "It is very desirable that Tait should continue to paint cattle in Hart's landscapes, but it is equally desirable that whenever Tait borrows the aid of Hart, the entire landscape should be painted by Hart's hand."
A Tight Fix‒Bear Hunting, Early Winter
Arthur F. Tait, 1856
Oil on canvas
Crystal Bridges Museum of American Art, Bentonville, Arkansas
Photography by Amon Carter Museum of American Art
The Life of a Hunter. "A Tight Fix"
Arthur F. Tait, artist
Currier & Ives, lithographers and publishers
New York, New York; 1861
Hand-colored lithograph
Bequest of C. Porter Schutt 2000.19.2
Tait's collaboration with Currier & Ives was not without conflict either. The firm's publication of The Cares of a Family led to a falling out between the two in 1865. Ten years earlier, the publishers had issued a large folio print of one of Tait's paintings depicting a family of quails with a brood of eleven chicks. It was widely popular, so the firm, following their usual practice, decided to reissue the picture in a smaller and cheaper version. The resulting print, a companion to Infant Brood (see below), was aimed at a less discerning audience. It was not as carefully drawn and lacked the refined coloring of the earlier print. Tait, who had not been consulted, was outraged at the unauthorized appropriation of one of his pictures. What especially upset him, however, was not that Currier & Ives reused an earlier composition—there was no copyright for paintings in America until 1865, and Currier & Ives owned the copyright of the earlier print—but rather that his signature had been prominently inserted into the image.
The Cares of a Family
Arthur F. Tait, artist
Charles Parsons, lithographer
Currier & Ives, publishers
New York, New York; 1856
Hand-colored lithograph
Bequest of C. Porter Schutt 2000.19.14
The Cares of a Family
Currier & Ives, lithographers, and publishers
New York, New York; undated, printed about 1872
Hand-colored lithograph
Bequest of C. Porter Schutt 2000.19.71
During the 1860s, Tait sent his paintings to cities outside New York. In Boston they were exhibited at Williams & Everett, a firm that ran a free art gallery. It was probably there that a small painting of chicks, similar to the one exhibited here, attracted the attention of Louis Prang (1824–1909), founder of the lithographic firm Louis Prang & Co. In 1865 Prang had recently returned from a trip to Germany, where he studied the latest technique in color lithography in an effort to improve the methods of chromolithography for fine arts reproduction. A print based on Tait's painting Chicks was Prang's first success. Prang's "chromos," as such prints would later be nicknamed, were so perfect an imitation of the colors, texture, and surface of the painter's brush strokes that they sparked a debate among art critic Clarence Cook, Tait, and Prang.
While Prang believed in technology's mission to disseminate good art through an affordable but perfected reproductive print, Cook asserted that the new lithographs were deceptive facsimiles that would confuse audiences, making them unable to discern the true nature of the artwork. Tait sided with Prang, asking nevertheless that, as artist, his name be identified on the print while that of the lithographer be consigned to the lower margins of the image. Later the painter admitted that the more popular Prang's chromolithographs became, the less he found buyers for his small paintings. Maternal Love is the last known collaboration between Tait and Prang.
The Infant Brood
Arthur F. Tait, artist
Currier & Ives, lithographers and publishers
New York, New York; undated, printed about 1872
Hand-colored lithograph
Bequest of C. Porter Schutt 2000.19.66
Chicks
Attributed to Arthur F. Tait
New York, New York; about 1865
Oil on academic board
Museum purchase with funds provided by the Estate of C. Porter Schutt 2015.32
Maternal Love
Arthur F. Tait, artist
Louis Prang & Co., lithographers and publishers
Boston, Massachusetts; 1872
Chromolithograph in 18 colors
Museum purchase with funds provided by the Estate of C. Porter Schutt L2015.1062.2