Treatment and Study of Chinese Export Lacquer at Winterthur
In 2011 Winterthur conservation staff surveyed thirty-three lacquered objects in the collection, finding that the lacquer on almost all had suffered significant deterioration. Problems included dull and darkened surfaces, cracked and lifting lacquer, losses, and previous inappropriate repairs, fills, and in-painting.
Six objects in the group were prioritized for treatment and study based on condition, rarity of form, and their association to the American China Trade. An Institute of Museum and Library Services (IMLS) grant funded scientific analysis of these pieces to better understand Chinese lacquer made specifically for the American trade; to develop best practices for treating these objects; and to train conservators elsewhere in treatment techniques for this fragile material.
Conservation of a Chinese export lacquer pedestal-base tilt-top table
Tilt-top table
China; 1830–50
Wood (including camphor in the base, by microanalysis), Asian lacquer, gold powder, brass
Gift of Mrs. G. Brooks Thayer 1963.0096
Quickly made with fewer, partially cured lacquer layers as well as minimal preparation of the core and ground layers, Chinese export lacquer was inferior to Asian lacquer made for the domestic market and is prone to greater age deterioration. This table has suffered many of the same age-related issues as the unrestored Chinese export lacquer sewing box seen in the "What is Lacquer" section of this exhibition.
To conserve the top of this table, the central, longitudinal split in the wooden core (composed of many narrow-edge glued boards) was closed. Next, animal hide glue was injected under the raised edges and detached areas of the cracked lacquer. Moveable rods attached to clamps were positioned over the treated area and held in place by pressure under a metal frame to flatten and reattach the lacquer. The effectiveness of this treatment depends on an optimal combination of adhesives and an adjustable clamping system.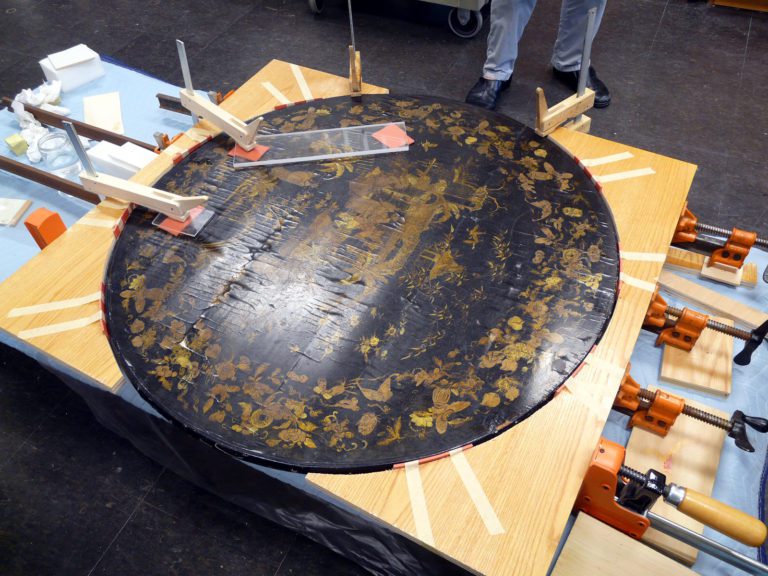 Clamping system developed to repair cracked lacquer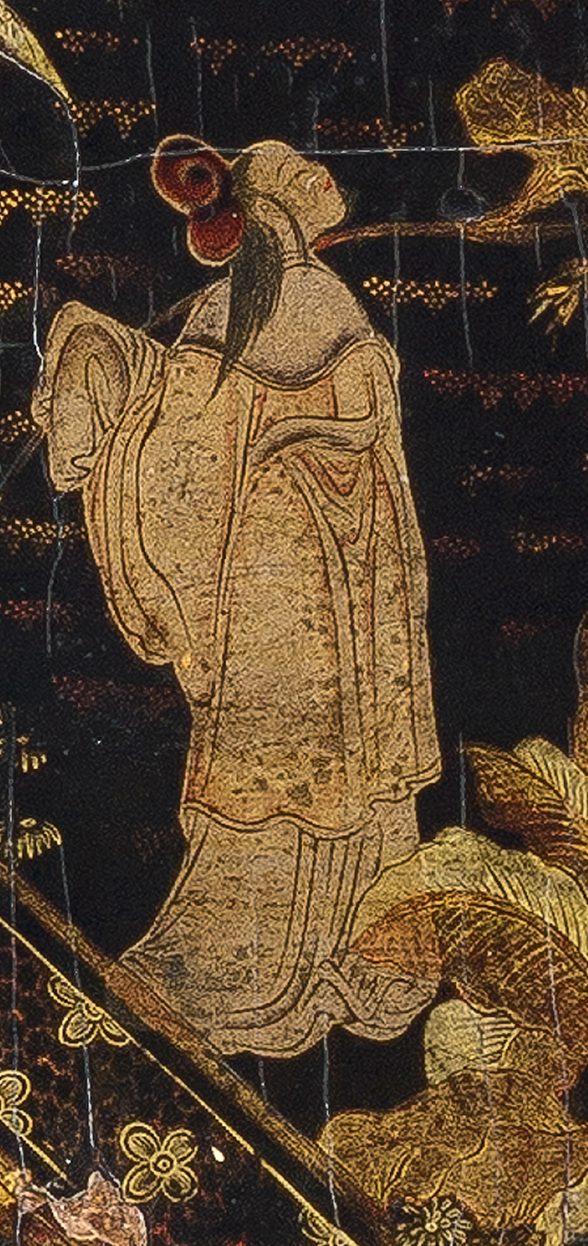 Unprotected lacquer surfaces, such as those on this table, often became dull with age. Scientists in Winterthur's analytical lab identified shellac as the material that was used at some point to renew the shine of the lacquer.
Although this shellac layer has darkened and discolored the appearance of the decoration (which was originally applied directly to the top layer of the lacquer without a protective coat), it has served to protect the lacquer and gold decoration from further deterioration. The conservators have decided to clean and consolidate this shellac layer, rather than remove it.
Loss Compensation
Areas of missing lacquer have been filled with dark-color, polyvinyl, alcohol-based putty, which was leveled and painted to match the color of surrounding lacquer.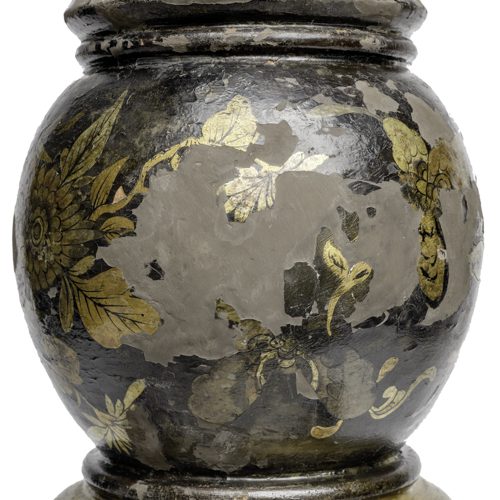 Henry Francis du Pont collects Chinese export lacquer
Henry Francis du Pont's interest in lacquer was multifaceted. He appreciated the great beauty of individual objects and the decorative potential of Asian lacquer screens, furniture, and objets d'art as focal points in many rooms throughout Winterthur. He also enjoyed the visual effect of massing China Trade goods in a single room setting. In 1962 du Pont wrote a letter to his friend Elfrida Roosevelt Clarke, saying that Elfrida's sister, Katharine Roosevelt Reeve, had donated "a fascinating cane sofa which had been made in China." The timing of her gift was fortuitous, for, he continued, just at the same time, "Mrs. Oliver [Hope Goddard] Iselin gave me a flat sofa bed which had been in one of her family's China Trade boats." To honor these donations, du Pont created the China Trade Room to display a selection of Chinese goods made for export to America in the late 18th and 19th centuries. Not only did this grouping provide visual delight, it enabled him to reflect on, and retell, the story of early America's interconnected elite merchant families (Roosevelt, Iselin, Goddard, Lowell) and the wealth they amassed through their involvement in the China Trade.